Welcome to the world of Zootopia!
Zootopia is described as a "modern, civilized world that is entirely animal", meaning it is a world where humans are nonexistent, and anthropomorphic animals thrive in their place. Originally a mammal watering hole thousands of years prior, Zootopia grew into a city built by animals, for animals.
In Zootopia, anyone can be anything, and we here at Zootopia mean that. So, we've created the "Mammal Inclusion Initiative" that provides all species of mammals high-ranking opportunities in every part of Zootopian society.
Whether you want to be a businessbeast, police officer, firefighter, or whatever you can think of, we really want to make sure anyone can be anything.
To accommodate the residents of each district's environmental requirements, Zootopia's districts feature artificial climate zones. For districts with opposing climate zones, there are massive walls separating them designed to ventilate the air temperatures between the two environments, similar to air conditioners. Zootopia also features an extensive train system for all sizes of mammal, including a smaller section for rodents to board safely from larger animals.
If you think your dream is impossible for you to accomplish, then you haven't been to Zootopia yet.
So come on down to Zootopia! Where anyone can be anything!
Sincerely yours,
-Mayor Lionheart
Information about the world of Zootopia
Unfortunately, Zootopia is, similar to the human world, plagued with prejudice. Prey animals, especially small herbivorous ones like sheep and rabbits, are often disrespected for being small and weak, and find themselves being underestimated and underappreciated as a lesser group. Predators, on the other hand, are often seen as cunning, vicious, powerful, loud and arrogant and are distrusted by the prey animals, who make up the majority of the population. In spite of this, the city holds the mantra of "In Zootopia, anyone can be anything", coined by the city's noble head, Mayor Lionheart, who has worked on a project known as the Mammal Inclusion Initiative that, in theory, provides all species of mammals high-ranking opportunities in every part of Zootopian society.
Some existing cities in the diverse world of Zootopia had to get cut out of the film, although they remain on the map. Those include the Meadowlands, which is all sheep; an Australian district named Outback Island; a nocturnal district with a city of caves; and probably other cities with reptiles and birds - classes of animals also not present in the film- as opposed to Zootopia's all-mammal population.
The Map of Zootopia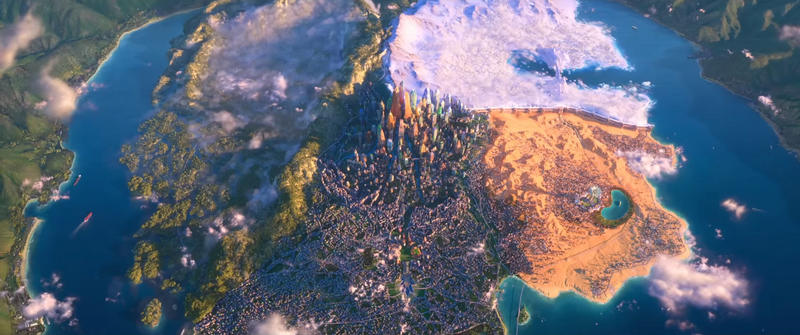 Sahara Square
Sahara Square is a district for Desert Mammals in the City of Zootopia.
Upon learning that desert animals are mostly nocturnal due to the heat of daytime, the designers built lots of nighttime activities, such as casinos and a giant palm-tree hotel with an oasis surrounding it.
So if nice, hot, and dry weather and fun night time activities sound like the perfect vacation treat, then Sahara Square is the best place for you to visit.
Tundratown
Tundratown is a district for Polar Mammals in the City of Zootopia.
During the Holiday Seasons, the lights of Tundratown really makes the district look exactly like Santa's workshop, making it the perfect vacation destination for the Holidays
So if you like cold weather and beautiful snowy landscapes, then Tundratown is the best place for you to visit.
Little Rodentia
Little Rodentia is only 21 inches tall, making it less than two feet high. However, for the smaller mammals, it is still a diverse district, having a wealth of restaurants, shops (especially cheese), and transportation. It is located in Savanna Central park, gated off from larger mammals and with stable weather patterns to accommodate for the light weight of the district. Parts of the community also borrow appliances that are considered average size from larger animals and incorporated into it, such as Christmas lights for street lights. It also includes various skybridges between buildings that are modeled after tubes normally seen in hamster cages.
So, if you are a small mammal, then Little Rodentia is the best place for you to visit.
The Rainforest District
Rainforest District is a district for Rainforest Mammals in the City of Zootopia.
Though it's a pretty wet and green area, it's still a beautiful place to live, with authentic building designs from native rainforest dwellers and luscious floral life, as well as a sky lift to take you to and from the rainforest.
So, if getting a little wet and exploring the natural scenery of a jungle sounds like the perfect vacation for you, then the Rainforest District is the best place for you to visit.
Savanna Central
Savanna Central is the downtown area of the City of Zootopia, where all the animals from other districts converge and congregate in their everyday life.
The central hub of the city, Savanna Central houses many residential areas and key communal buildings, including City Hall, Zootopia Police Department, and the Central Station trains. The watering hole that became Zootopia is also present outside of City Hall. It also has a small park in the middle.
So, if you want to visit the big city and enjoy history, then Savanna Central is the perfect place for you to visit.
Outback Island
A place for all creatures from Australia, this district is showcases sweeping plains filled with intense, dry heat, shifting red sands, short scrub, and patches of taller trees. Accommodations range from cool underground burrows to nest-like houses in trees to comfortable dwellings built in the shade at ground level. Activities here include swimming in the billabong, sliding on the dunes, enjoying traditional music and art and storytelling under the stars at night. If you fancy a cultural experience in the heat and cool, relaxing nights then Outback Island is the place for you!
Meadowlands
The Meadowlands is a district entirely comprised of sheep in the City of Zootopia.
It's a very relaxed district with plenty of grass, luxurious housing, and beautiful skies.
So if relaxing with the herd sounds like the perfect vacation, then the Meadowlands is the perfect place for you to visit.
Nocturnalia
Nocturnalia is a district for nocturnal mammals in the City of Zootopia.
This district is filled with caves, caverns, and beautiful bioluminescent lights lighting up the dark caves, this district is the perfect place for adventure.
So if darkness and exploring beautiful caves sounds like the perfect vacation, then Nocturnalia is the perfect place for you to visit.
Information about the roleplay itself
This Roleplay is a Non-HPU, Slice of life roleplay, taking place in the city of Zootopia. Your characters can all live in any district that you choose, but you all have a membership to the Savanna Recreation Center, located in Savanna Central, where anyone can do anything. From working out in a gym with all kinds of specialized equipment, to playing basketball in the indoor basketball court, to taking art classes in one of the many city funded learning programs. Literally anything you can think of, it's probably at the Savanna Rec Center.
This is the one constant that your characters have in common, and while you don't have to hang out in the Rec Center the whole time, it is the place where you all meet.
But to clarify, the entire city is yours to explore, but because it's so big, it could be impossible for your characters to find each other. That's why the rec center is here.
Rules for the roleplay
Obviously all of the site-wide and RP-wide rules apply here.
Regarding spoilers, at this point in time the movie has been out for general purchase/viewing long enough that I feel safe in allowing spoiler content. If we get a player who hasn't seen the movie for whatever reason however, then I will ask that we avoid open spoilers in OOC, and use spoiler tags. (But also advise they watch it. It's good. c:)
Character Creation
Instead of making the animals all the same size and making the film seem generic, the filmmakers decided to give the animals a real world scale. So, we will be doing that with this roleplay.
To give you an idea about how drastic that is, a wildebeest standing on twos would have the same height as an average human, or to specify the height, 5.6ft tall. But a wildebeest to a mouse is 1:24, meaning that it would take 24 mice, each mice being 2in tall, standing on each other to match the height of a Zootopian wildebeest. Using the height of a giraffe, that same mouse is at a scale of 1:97 to the giraffe. So a giraffe would be about 16ft tall.
Keep this in mind when creating a character.
Also, while each creature may vary in size, just go ahead and give them normal stats. Even if a rabbit has 10 agility and a cheetah has 10 agility in numbers, it just means that your character is above average for your species.
Other than that, just use the standard roleplaying character sheet template provided in the roleplaying ooc.
We are currently accepting ANY applicants for the Zootopia roleplay.
List of Active Participants:
Hlaoroo:
Benjamin "Ben"/"Sparks" Winton - Weasel - S4, P8 E5, C8, I8, A5, L4
Jannali Henderson - Bilby - S5, P8, E5, C6, I7, A5, L6
RandomGeekNamedBrent:
Richard "Rick" Dickens - Dik-dik - S5, P7, E5, C6, I5, A8, L5
Christina "Chris" Kamoshika - Japanese Serow - S8, P4, E5, C8, I4, A8, L5
Pecan:
Timothy "Timmy" Cotton, aka "Kickback" - Rabbit - S6, P4, E8, C5, I5, A9, L5
Welsh Halfwit:
Bailey Martin Jackson - Maine Coon - S6, P8, E7, C7, I7, A4, L3
Gameb18oy:
Miles Marrow - Ferret - S4, P6, E3, C7, I8, A9, L-5
[email protected]
:
Dawn Faraday - Arctic Fox - S5, P3, E4, C10, I7, A9, L4
List of Inactive Participants:
MrNeonShot:
Kirby Otterson - Otter - S6, P5, E8, C7, I6, A5, L5
hypernovatic:
Sarayda "Leo" Otterson - Fennec Fox - S4, P5, E8, C6, I6, A8, L5
Keeshah:
Willian (Foxy) Brown - Coyote/RedWolf - S6, P7, E6, C4, I8, A7, L4
Jacey:
Eric Panderton - Red Panda - S7, P5, E5, C6, I8, A5, L6
Mickey:
Matthew "Cinnamon" Lervos - Cheetah - S7, P5, E5, C4, I9, A7, L5
Carter "Coffee" Lervos - Leopard - S7, P5, E5, C8, I6, A7, L4
The Moon Howler:
Bigby Wolfen - Gray Wolf - S7, P6, E6, C5, I6, A7, L5
Mackintosh "Mack" Lesley - Fennec Fox - S5, P7, E6, C5, I7, A7, L5
WeirdGamer:
Monty Lyons - Cougar - S6, P9, E7, C6, I8, A4, L2
rodgil:
Kavick Inkheart - North American Timber wolf - S6, P7, E6, C5, I8, A7, L3
Reaper - white tiger - S9, P8, E6, C4, I5, A6, L4
AnimeNerd88:
Selene Phangs - Lynx - S5, P3, E6, C9, I6, A7, L6
Jasper Phangs - Lynx - S6, P5, E7, C5, I8, A6, L5
Zootopia Roleplay link here!!
Information links used for the Zootopia OOC:
http://disney.wikia.com/wiki/Zootopia_(location)
http://disney.wikia.com/wiki/Sahara_Square
http://disney.wikia.com/wiki/Tundratown
http://disney.wikia.com/wiki/Little_Rodentia
http://disney.wikia.com/wiki/Rainforest_District
http://disney.wikia.com/wiki/Savanna_Central
http://www.geeksofdoom.com/2016/01/20/5 ... s-zootopia