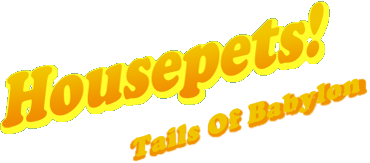 HAVE YOU EVER WANTED TO PLAY AS YOUR FAVORITE CHARACTERS?

WELL NOW YOU CAN!
when we add them all.
Started October 19 2014, Housepets! Tails of Babylon! is an original fan game currently in development. Tails of Babylon! offers a traditional JRPG experience mixed with the enchanting charm of the Housepets! comic.

ORIGINAL FAN GAME YOU SAY? WHAT IS THE STORY LIKE?!
Housepets! Tales of Babylon is an RPG Adventure following the adventures of our heroes as they try to stop the Malevolent Nue!
Not long after Spirit Dragon and Pete's game has ended a new Cosmic Nerd takes the stage.
He is a JRPG otaku who takes the form of the Japanese nue. He has decided to make the world into his very own JRPG by influencing events to cause our heroes to rise up and fight, and he sets himself up as the unbeatable final boss. However, in the shadows lies another sinister force trying to creep in as well. Our heroes face a serious challenge, but they will overcome!
Probably. They are the heroes of the story. It's pretty likely.
Housepets Tales of Babylon! is being created by your very own friends from the forums!
Founder/Armor Concept:
KingFan202
Lead Developer:
SuperStar
Story Writer:
SuperStar, Obbl, CHAOKOCartoons, and many others.
Sprite Artist:
Buster
Music Artist:
Great Kitsune
Character Artist:
CHAOKOCartoons
Weapons Concept & Artist:
D-Rock
Skills Creator & Stat Balancer:
GameCobra
Development Manager:
Obbl & Invisan
Support:
Many people who have been checking in on us and giving us positive encouragement! You know who you are!
I WANT MORE INFORMATION ON THIS! VIDEOS AND SUCH!
Well just so happens SuperStar made some videos.
Early Weapon Showcase:
https://www.youtube.com/watch?v=BvkpGNRNMNc
Face Showcase:
https://www.youtube.com/watch?v=qgZHuBg8-ys
Night / Lighting Showcase:
https://www.youtube.com/watch?v=tFNW54snRkU
Early Build Of The Game
(subject to change)
https://www.youtube.com/watch?v=6Jp5KTls1Bc
YOU SAID THERE WAS A DEMO! I WANT TO PLAY!
https://drive.google.com/file/d/0BxfyYQ ... view?pli=1
Installation Instructions:
1. Download.
2. Wait for it to finish downloading. (It's 736MB)
3. Run the file.
4. It will bring up a box that says "Extract Folder" This is where the game will be on your PC. Click the "..." Button and choose where to install it.
5. It will start extracting, wait for it to finish. Shouldnt take long.
6. Go to where you extracted it.
7. There will be a folder called "Tales of Babylon DEMO" Open it.
8. There will be an icon of a red dragon, but its just called "Game" So its "Game.exe" But it wont have the ".exe" in the name.
9. Double click the Game from above.
10. START YOUR ADVENTURE.
11. Listen to the opening music IF YOU DONT, GREAT KITSUNE WILL FIND YOU. Just kidding.
I WANT TO SHOW MY SUPPORT! WOOOO!
HOW DO I DO THAT?
We have some nice userbars for you to use!