Hello and welcome to Sonic Adventure:Grand Metropolis! Below you will find some information about the world, character list, and very importantly a version of the standard character sheet noting the changes made to accommodate the setting. Read on and have fun!
Premise:
Based on the famous Sonic games by Sega, the characters are Mobians (anthropomorphic animals) who live in the city of Grand Metropolis. Grand Metropolis is one of the largest cities in the world and is essentially run by the energy company HEXAeco. In the RP the characters will live their lives in this big city while uncovering the secrets it holds. Secrets such as, is HEXAeco as benevolent as it seems, what is the G.U.N (Guardian Unit of Nations) base on the outskirts of the city secretly doing, and why does the food at the Nuts and Bolts diner taste so good? Lots of fun character driven adventure and exploration.
The City:
The city of Grand Metropolis is one of the largest and most advanced in the world. It's a coastal city with a river running through it. It's known for its towering skyscrapers and its Sky Walk Ways that speed along pedestrians between buildings. And the crown jewel of the city is the clean energy company HEXAeco, which brought the city to its current heights (both of the literal and figurative sense). HEXAeco essentially runs the city, providing services such as hospitals, police, and many others in addition to the energy it produces. Grand Metropolis attracts many people to live there from all over the world. The city is sprawling and made up of many districts and has many places for people to live. On the outskirts of the city is a small G.U.N. (Guardian Unit of Nations) base which occasionally provides support to the HEXAeco security.
The Nation:
Grand Metropolis is part of the United Federation and is the largest city within it, but not the capital (that would be Central City). The United Federation is made of up of eight member nations which banded together to form one controlling government headed up by a popularly elected president and representative legislature. It is protected by the organization G.U.N (Guardian Unit of Nations) which uses a mix of soldiers, analysts, scientists, doctors, robots, and field agents to keep the United Federation safe.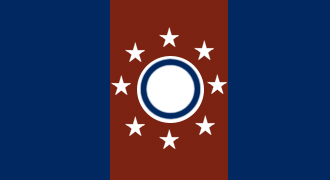 The World:
The world is called Earth, much like our world, but looks different. No real world locations exist on it. It has only five continents, and only one of the poles has any land around it. The technology is also much more advanced with many robots around. Additionally there are different countries and humans are not the only intelligent inhabitants. The moon is also halfway artificial due to a disaster caused by a mad scientist. Here is a map of the world:
Mobians:
On this version of Earth humans are not the only intelligent species. They share the planet with a species called Mobians. Mobians are creatures that resemble anthropomorphic animals from our world. They are small and colorful and less common than humans, but are still part of every society on the planet and are treated as equals. Mobians are known for their surprising speed, the high number of mutations, and being able to adapt to technology installed in them (e.g. cyborg parts) better than humans. They do however have a slightly shorter life span than Humans. Mobians can mate with each other regardless of type. If two Mobians of the same type mate (E.g. a cat and a cat) the children will always be of the same type. But should to different types mate (e.g. a cat and a dog) the child's type will be that of the opposite sex parent. So if there is a female cat and a male dog any male children they have will be cats and female children will be dogs (my deepest apologies to biologists everywhere).
A word about Canon Characters:
This RP follows the RP section rules on allowing canon characters into the RP. They are not allowed in (they're probably busy elsewhere anyway). They may be mentioned in passing (they are famous after all) but should not be controlled by anyone. For fans of Marvel's Cinematic Universe, think of it like the
Daredevil
show.
Additional Information:
Sometimes a post will be made with more information on a given topic. Check back occasionally to see if there are new posts.
Robocitcs and Cybernetics
The United Federation Government
Guardian Unit of Nations
Character Sheet:
("Same as default rules" means the same as the rules on the main OOC topic)
Character Name:
Mobians have a Given Name that is very similar to human names (though many lack middle names). According to Mobian tradition a Mobian will eventually take a Taken Name they will be called by. This is usually a word that describes them in some way (Physical traits, abilities, personality, etc.) followed by the species they appear as, e.g. "the Hedgehog". Most modern Mobians honor this tradition but still respond to their Given Name and consider both names to be valid. Some even forgo Taken Names entirely and have only their Given name. Traditional Mobians do the opposite and have only their Taken Name. You can list one or both.
Color:
Same as default rules.
Type:
Same as default rules.
Species/Breed:
Mobians can be mammals, reptiles, birds, or some bugs. Some animals that are not Mobians are any sea creature, mythological creatures, extinct animals, animals without limbs, animals with hooves (e.g. horses), and particularly large animals such as elephants (the largest Creature a Mobian can be is a Bear). Below are listed some ideas for species that are not seen in mainstream Sonic Games, but can work for a character:
Mammal: Dog, Flying Squirrel, Hamster, Mink, Mouse, Possum, Quoll, Sugar Glider, Vole
Reptile: Alligator, Lizard, Turtle
Bird: Dove, Goose, Eagle, Raven, Rook, Seagull, Swan
Insect: Beetle, Cicada, Ladybug, Wasp
Age:
Mobians age like humans. However, they tend to enter adulthood at a younger age, closer to 16. Characters younger than 8 suffer from penalties placed on them as young characters as per the default rules. Characters older than 65 suffer the penalties placed on older characters by the default rules.
Neighbourhood:
Sonic Adventure: Grand Metropolis
Appearance:
Mobians' fur, scales, or feathers, come in all shades of colors. Most Mobians have one dominant color with a secondary color on their muzzle, chest or torso, and possibly their arms. Mobians eyes come in almost as many colors as their bodies. Mobians usually only wear gloves, socks, and footwear. Many Mobians add accessories such as hats, belts, and jewelry, and some even parts of or a whole outfit. Mobians are considered decent with only the Gloves, and Footwear however and don't need to wear clothes like humans. Full grown Mobians can be anywhere between 3 and 6 feet (0.9 to 1.8 meters) tall, with larger species naturally being taller on average. Most Mobians average between 3 and 4 feet (0.9 to 1.2 meters) tall.
Personality:
Same as default rules.
Backstory:
How did your character come to Grand Metropolis? Why did they come? Were they born there? Why have they stayed in Grand Metropolis?
Other notes:
Some Mobians have special abilities. For this RP the abilities should be relatively minor if they're present (Such as a Bat's ability to fly, or the ability to sense if life is nearby), and are subject to approval by the GM.
S.P.E.C.I.A.L stats:
Same as the default rules. A Mobian's species does not affect the stats.
Character List:
Main:
WeirdGamer -
Beacon the Jaguarundi
Mickey-
Alpha the Raven
Buster -
Cpl. Katt Black
RandomGeekNamedBrent -
Matthew Leo AKA Forge the Lion
~\Rook/~ -
Sgt. Serge Towers
Deske -
Artyom Nedzchev
Civilization -
Quasi the Ferret
NPC:
WeirdGamer -
Acting Colonel Warren Wallace
Inactive:
MrNeonShot -
Daniel "Danny" the Sea Otter