---
I was curious if any of you guys built your own computer!

In Febuary of this year, I decided it was time to upgrade, I had an old Gateway from way back, 2004 to be exact! It was old, tired and needed a replacement.

I shopped around for awhile, rediculous price after rediculous price for a decent computer with just average specs, I decided to build my own new computer. I had just gotten my tax return back, and I wanted to get the best bang for my buck. My old computer lasted seven years because my family went all out and put all of the latest technology in it from back in 2004. I got it for christmas from the whole family, and it served me very well. Its still in use by my family in the living room!

I was looking to spend at most $1,500 (Im not rich trust me, I just learned that you get what you pay for, and I didn't want to go cheap on my computer). I wanted to make an above average computer for extreme gaming, and also wanted capabilities for video and photo editing. It is a lot cheaper to build one than it is compaired to what I can buy a pre made computer for. I went with as much ASUS components as I possibly could in my build, because I have never had a problem with them in the past. Three months later, Its still running strong!

Here is what I bought and used to make my baby!



Antec Three Hundred Black Steel ATX Mid Tower Computer Case




ASUS P7P55D-E LX LGA 1156 Intel P55 SATA 6Gb/s USB 3.0 ATX Intel Motherboard




Intel Core i7-870 Lynnfield 2.93GHz LGA 1156 95W Quad-Core Processor BX80605I7870




ASUS ENGTX460 DirectCU TOP/2DI/768MD5 GeForce GTX 460 (Fermi) 768MB 192-bit GDDR5 PCI Express 2.0 x16 HDCP Ready SLI Support Video Card




G.SKILL Ripjaws Series 8GB (2 x 4GB) 240-Pin DDR3 SDRAM DDR3 1600 (PC3 12800) Desktop Memory Model F3-12800CL9D-8GBRL




Antec EarthWatts EA750 750W Continuous Power supply




Western Digital Caviar Blue WD5000AAKS 500GB 7200 RPM SATA 3.0Gb/s 3.5" Internal Hard Drive

(for OS,) Im saving up for a solid state drive by the way


Western Digital Caviar Green WD10EADS 1TB SATA 3.0Gb/s 3.5" Internal Hard Drive

(for storage and backup)


ASUS Black Blu-ray Drive SATA Model BR-04B2T RT




ASUS DRW-24B1ST/BLK/B/AS Black SATA 24X DVD Burner




2

APEVIA CF12SL-UBL 120mm Blue LED Case Fans




A couple

OKGEAR 18" SATA 6 Gbps Cable, Straight to Right Angle UV blue




ASUS VE205T 20" WideScreen LCD Monitor




Microsoft Windows 7 Home Premium 64-bit




Link Depot 25 FT HDMI TO HDMI A/V Cable

(to hook up computer to my TV so I can watch videos from Youtube and stuff as well as Blu Ray discs on my TV)
I had

Logitch X530 5.1 surround sound speakers

from my previous computer, as well as

a wireless keyboard and a mouse by Microsoft

that I donated from my old computer to be used on my new computer so save me some money!

The grand total with a warrentee on the major components for two years came out to be $1,400! Not bad!

This computer is AMAZING. Everyone that uses it says its the fastest computer they ever used. Windows 7 rated everything as a 7.5 in the performance rating thing, though my hard drive is rated at 6, due to it only being 7,200 RPM with a slower transfer rate. Thus, I am saving up for a solid state hard drive, to make the score an official 7.5, or at least better than 6. I dont want to have a RAID setup for those wondering why I didn't do that in the first place...

Im very proud of myself for my first build! Here is a picutre of it! Im disapointed by the quality of the picture, my phone doesnt take the best pictures indoors...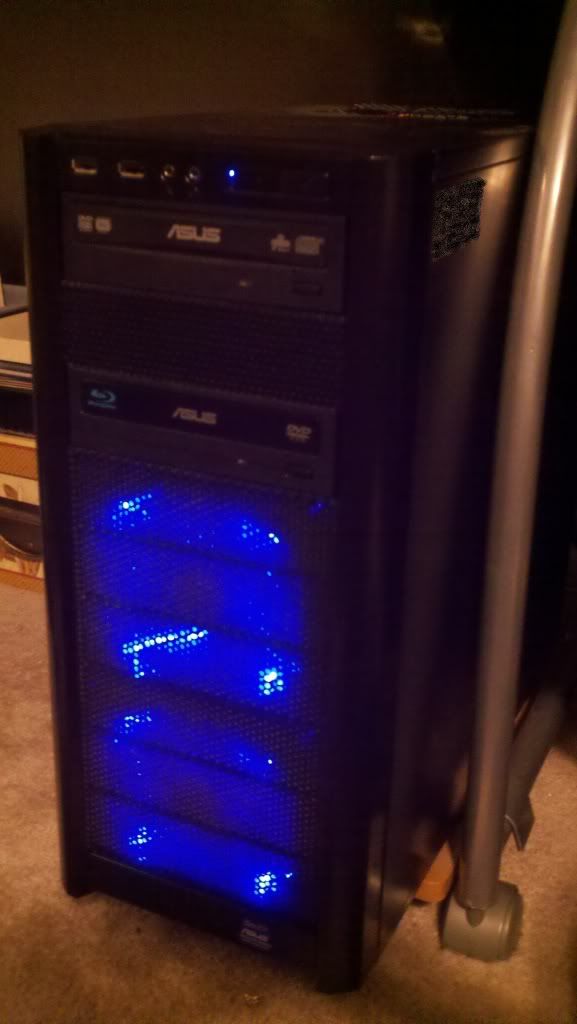 I blacked out the Windows 7 code thing, so that is what that bar is on the top right.